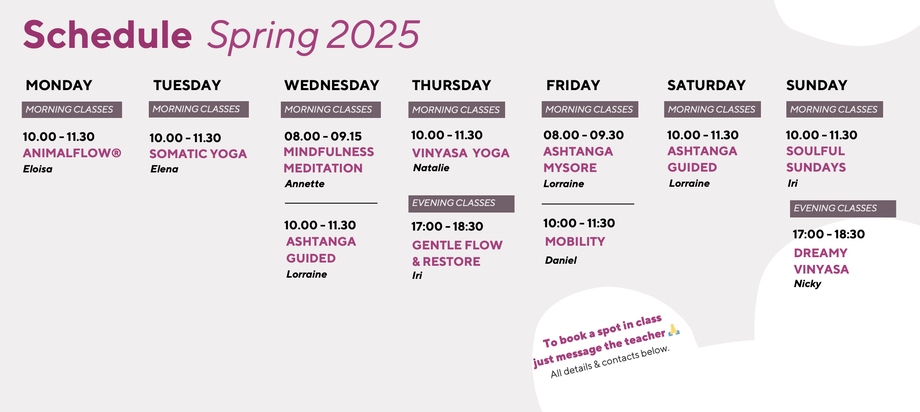 COURSE-FEE: Classes are offered based on a sliding scale, inviting everyone to choose from their genuine capacity to pay between 10,- / 12,50 / 15,- euro.
Yogamats & blocks are provided as well as filtered water and fresh herbal tea.
---
BOOK YOUR SPOT IN CLASS - SEND A MESSAGE TO:
VINYASA FLOW & DEEP FLOW YOGA -- Maria +49 17631520681
SLOW FLOW -- Natalie +44 7932602215
YOGA FLOW Tuesdays -- Nathalie +33 676828142
YOGA FLOW Thursdays -- Thijsiena +49 178 6681541
FEMININE YOGA -- Dani +351 926636894
MORNING FLOW --  Celine +49 176 23374914
YIN YOGA -- Nathalie +33 676828142
MOBILITY FLOW -- Daniel +351 969139951
KUNDALINI YOGA -- Agnieszka +31 624700025
ALL CLASSES ARE SUITABLE FOR BEGINNERS. EVERYONE IS WELCOME!
---
VINYASA FLOW with Maria. Enjoy the fluid dynamic of Vinyasa Flow Yoga in which you are invited to activate your inner fire. We will move fluently through a sequence of asanas and sun salutations in synchronicity with the breath. The different qualities of the elements like fire, water, earth and air underline each class. Feel the benefits of these ancient postures and how they increase the frequency and energy system. All levels welcome.
SLOW FLOW with Natalie. This class moves between the yang and yin spectrum of yoga, with a slow and steady paced dynamic vinyasa, perfect for beginners, surfers or those wanting to deepen their practice. Depending on the energy of the group (or the ocean) we might go stronger or softer, but you can count on breathwork, a gentle flow incorporating grounding and balancing postures to foster steadiness and ease and an opportunity to tune into the subtle energy of the body, followed by a deep and nourishing relaxation.
YOGA FLOW with Nathalie / Thijsiena. This is a dynamic and active practice that will incorporate both slow but strong sequences inviting you to surrender from lifes challenges, finding balance and embodying a calm state of being. With deep stretching, meditation and interwoven philosophy this class will leave you feeling energised yet tranquil. This is an all levels class, so there will be options according to your experience. This is an uplifting heart based practice that invites you to connect to your breath, body and essence.
FEMININE YOGA with Dani. Feminine Yoga is a gentle type of Yoga adapted to your female body, mind & soul. The practice responds to what you need in that moment, in every stage you are in. 
Reconnect to your feminine energy and find inner balance. Enjoy this sensual Yoga class and experience a deep relaxation in the end with Yoga Nidra.
MORNING FLOW with Celine. An energetic yet mindful practice where it's all about finding the balance between empowered and restoritive movements. In this session Celine is blending elements from vinyasa and yin yoga as well as qigong - a holistic flow getting you ready for the day.
YIN YOGA with Nathalie. This is a gentle and introspective practice which allows us to slow down and to embrace the yin side of ourselves. The class is designed with a sequence of postures which we hold for a long time in order to reach a space of stillness. When we are there, we breathe and we surrender to what is in our bodies. Among the many benefits of yin yoga : it calms and balances the mind and body, improves flexibility and joint mobility, reduces stress, balances the whole body system and improves the flow of energy (prana or chi).
DEEP FLOW YOGA with Maria. This class is designed for yogis that seek peace and tranquility in the midst of their daily routine. We will hold several asanas for up to 3-5 minutes woven into a playful web of a gentle Vinyasa Flow practice, Yin Yoga elements and breathing exercises. This is an invitation to loosen the energy system, relax the nervous system, connect with yourself and ultimately to melt into your body on a deeper level. Calm music or silence will highlight this journey. Please wear warm, comfortable clothing and bring a blanket.
MOBILITY FLOW with Daniel. Functional stretches & exercises inspired by Yoga and FRC® - a new, comprehensive training system based on scientific principles and research. In this session we release tension in the lower back, shoulders & hips, improve flexibility and build internal strength and body control to enjoy more freedom of movement. Sequences are designed for surfers but are suitable for everyone! Find more details here.
KUNDALINI YOGA with Agnieszka.
Breath-work, dynamic asanas and mantras are combined to awaken your inner energy and alignment with your inner voice. This is a powerful form of yoga that can shift your energy in a short time from tired to energised, from restless to peaceful, from sad to blissful. The kriya's and meditations work simultaneously on your mental, physical, emotional and energy and bring a feeling of balance - this is how Kundalini Yoga can provide deep healing effects. Being a certified trauma informed yoga teacher Agnieszka will guide you in a loving & compassionate way on this journey.