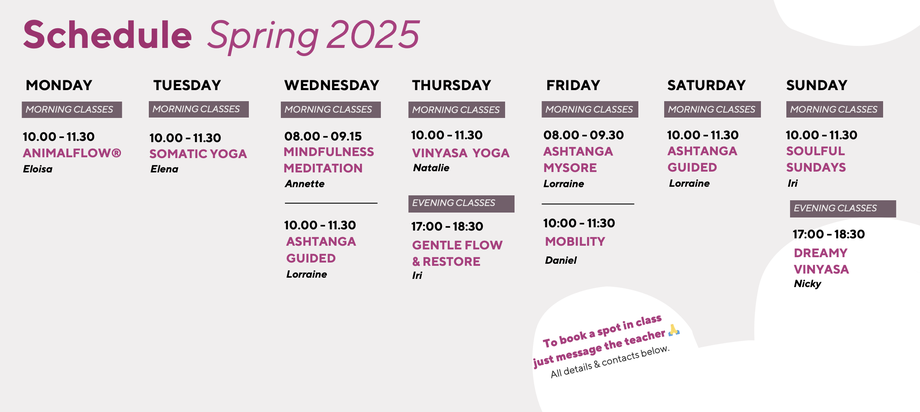 COURSE-FEE: Classes are offered based on a sliding scale, inviting everyone to choose from their genuine capacity to pay between 10,- / 12,50 / 15,- euro.
Yogamats & blocks are provided as well as filtered water and fresh herbal tea.
---
BOOK YOUR SPOT IN CLASS - SEND A MESSAGE TO:
VINYASA FLOW -- Maria +49 176 31520681
YOGA FLOW -- Chelan +44 7595 826535
MORNING FLOW --  Celine +49 176 23374914
PILATES -- Ramona +351 913989511
MOBILITY FLOW -- Daniel +351969139951
OSHO ACTIVE MEDITATIONS® -- Haripriya +351 920 199 147
ALL CLASSES ARE SUITABLE FOR BEGINNERS. EVERYONE IS WELCOME!
---
VINYASA FLOW with Maria. Enjoy the beautiful dynamic of a "classical" vinyasa flow yoga class in which you are invited to connect with yourself, with your heart, with spirit. You'll move quite fluently through a sequence of asanas and sun salutations in synchronicity with your breath. All levels welcome.
YOGA FLOW with Chelan. This is a dynamic and active practice that will incorporate both slow but strong sequences inviting you to surrender from lifes challenges, finding balance and embodying a calm state of being. With deep stretching, meditation and interwoven philosophy this class will leave you feeling energised yet tranquil. This is an all levels class, so there will be options according to your experience. This is an uplifting heart based practice that invites you to connect to your breath, body and essence.
MORNING FLOW with Celine. An energetic yet mindful practice where it's all about finding the balance between empowered and restoritive movements. In this session Celine is blending elements from vinyasa and yin yoga as well as qigong - a holistic flow getting you ready for the day.
PILATES with Ramona. Pilates is a proven training method to gain strength in the deep tissues, especially in the core. While you improve your posture and effectively stimulate your metabolism Pilates also has a holistic approach - listening to your body, learning how it works, focusing on form, breath, alignment, and muscle activation, all in an effort to develop strength, mobility and overall well being.  
MOBILITY FLOW with Daniel. Functional stretches & exercises inspired by Yoga and FRC® - a new, comprehensive training system based on scientific principles and research. Improve your flexibility & internal strength - build a strong core, enjoy more freedom of movement in your back & hips, your shoulders & neck. Sequences are designed for surfers but are suitable for everyone! Find more details here.
OSHO Active Meditations® with Haripriya. Designed by rebellious Indian mystic Osho, this style of meditation involves action, followed by stillness. The 1 hour long sessions are accompanied by music which was specifically composed to support the different stages. These meditations were created for the modern person who, due to the pressurised conditions of modern society, finds traditional sitting meditation overly challenging, and resultantly ineffective. OSHO Active Meditations® were scientifically designed to get us out of our heads and into our bodies, to express and unblock our repressed emotions, and finally find the bliss, clarity, and stillness we seek.