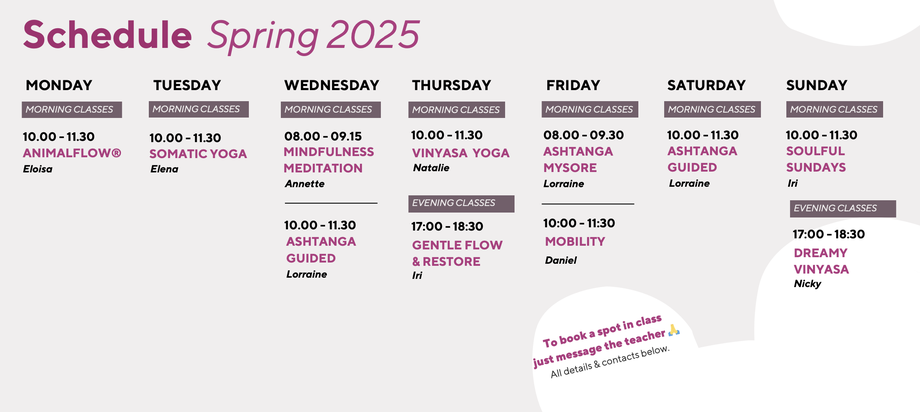 COURSE-FEE: Classes are offered based on a sliding scale, inviting everyone to choose from their genuine capacity to pay between €12 / €15 / 18€.
Yogamats & blocks are provided as well as filtered water and fresh herbal tea.
---
BOOK YOUR SPOT IN CLASS - SEND A MESSAGE TO:
VINYASA FLOW -- Maria +49 17631520681
SLOW FLOW -- Natalie  +44 7932602215 
YOGA FLOW -- Chelan +44 7595 826535
ASHTANGA VINYASA --  Lorraine +352 661 666 352
MOBILITY & DEEP STRENGTH -- Daniel +351 969139951
KUNDALINI YOGA -- Agnieszka +31 624700025
ALL CLASSES ARE SUITABLE FOR BEGINNERS. EVERYONE IS WELCOME!
---
VINYASA FLOW with Maria. Enjoy the fluid dynamic of Vinyasa Flow Yoga in which you are invited to activate your inner fire. We will move fluently through a sequence of asanas and sun salutations in synchronicity with the breath. The different qualities of the elements like fire, water, earth and air underline each class. Feel the benefits of these ancient postures and how they increase the frequency and energy system. All levels welcome.
SLOW FLOW with Natalie This class moves between the yang and yin spectrum of yoga, with a slow and steady paced dynamic vinyasa, perfect for beginners, surfers or those wanting to deepen their practice. Depending on the energy of the group (or the ocean) we might go stronger or softer, but you can count on breathwork, a gentle flow incorporating grounding and balancing postures to foster steadiness and ease and an opportunity to tune into the subtle energy of the body, followed by a deep and nourishing relaxation.
YOGA FLOW with Chelan. This is a dynamic and active practice that will incorporate both slow but strong sequences inviting you to surrender from lifes challenges, finding balance and embodying a calm state of being. With deep stretching, meditation and interwoven philosophy this class will leave you feeling energised yet tranquil. This is an all levels class, so there will be options according to your experience. This is an uplifting heart based practice that invites you to connect to your breath, body and essence.
ASHTANGA VINYASA with Lorraine. We will move with the breath in a dynamic flowing sequence, exploring the grounding asanas of the primary series of Ashtanga Vinyasa Yoga (Sun salutations, standing poses, seated asanas of the primary series & closing postures). An invigorating and grounding class, which purifies and strengthens the body and nervous system, as well as developing inner strength, flexibility & overall wellbeing. The class is open to complete beginners as well as experienced practitioners. There will be options for each pose to accommodate all levels and body types.
MOBILITY & DEEP STRENGTH with Daniel. You surf a lot, run, cycle, workout in the gym or practice martial arts or yoga and you know that stiff shoulders, back or hips are your limitation? 
Then this is for you! Functional stretches & exercises inspired by Yoga and FRC® - a new, comprehensive training system based on scientific principles and research. In this session we release tension & pain, improve flexibility and build internal strength and body control to enjoy more freedom of movement. Sequences are designed for surfers but are suitable for everyone! Find more details here.
KUNDALINI YOGA with Agnieszka.
Breath-work, dynamic asanas and mantras are combined to awaken your inner energy and alignment with your inner voice. This is a powerful form of yoga that can shift your energy in a short time from tired to energised, from restless to peaceful, from sad to blissful. The kriya's and meditations work simultaneously on your mental, physical, emotional and energy and bring a feeling of balance - this is how Kundalini Yoga can provide deep healing effects. Being a certified trauma informed yoga teacher Agnieszka will guide you in a loving & compassionate way on this journey.