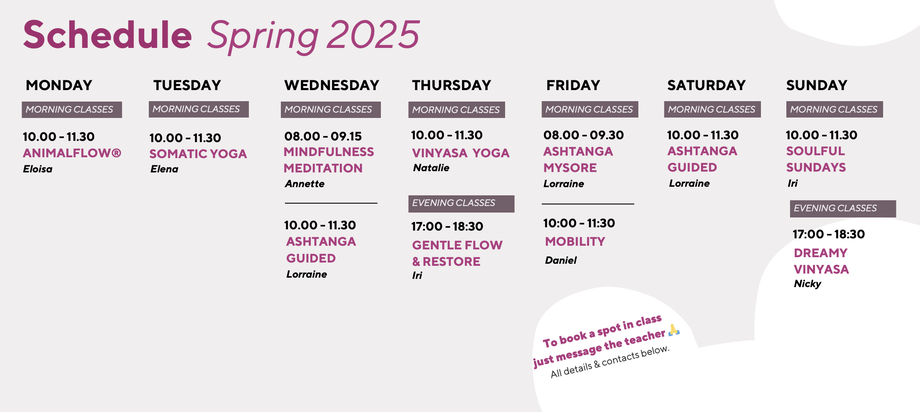 COURSE-FEE: Classes are offered based on a sliding scale, inviting everyone to choose from their genuine capacity to pay between €12 / €15 / 18€.
Yogamats and blocks are provided as well as filtered water and fresh herbal tea.
---
BOOK YOUR SPOT IN CLASS - SEND A MESSAGE TO:
VINYASA FLOW (Monday) -- Maria +49 17631520681
FLOW (Tuesday) -- Annette  +49 172 4468015
ASHTANGA VINYASA --  Lorraine +352 661 666 352
EMBODIED YIN -- Klaudia +48 662 647 306
DYNAMIC FLOW (Thursday) -- Natalie +44 7932 602215
KIDS DANCE CLUB (START Sept 28th) -- NOYA +972 54-630-0165
MOBILITY & CORE -- Daniel +351 969139951 
KUNDALINI YOGA -- Zerina +34 602 49 21 73
ALL CLASSES ARE SUITABLE FOR BEGINNERS. EVERYONE IS WELCOME!
---
VINYASA FLOW with Maria. Enjoy the fluid dynamic of Vinyasa Flow Yoga in which you are invited to activate your inner fire. We will move fluently through a sequence of asanas and sun salutations in synchronicity with the breath. The different qualities of the elements like fire, water, earth and air underline each class. Feel the benefits of these ancient postures and how they increase the frequency and energy system. All levels welcome.
FLOW with Annette. A harmonious yet challenging class weaving together a steady flow with playful & explorational movement from essentials to more elaborate yoga postures. Soothing pranayama (breathing practices), embodied meditation & mantra are incorporated as well - envoking a feeling of joy, connection and well-being so that the more subtle aspects of the practice can unfold.
ASHTANGA VINYASA with Lorraine. We will move with the breath in a dynamic flowing sequence, exploring the grounding asanas of the primary series of Ashtanga Vinyasa Yoga (Sun salutations, standing poses, seated asanas of the primary series & closing postures). An invigorating and grounding class, which purifies and strengthens the body and nervous system, as well as developing inner strength, flexibility & overall wellbeing. The class is open to complete beginners as well as experienced practitioners. There will be options for each pose to accommodate all levels and body types.
EMBODIED YIN with Klaudia. EMBODIED YIN is a combination of relaxing, restorative yoga and intuitive movement. Inviting you to slow down and rejuvenate, encouraging you to meet yourself in what is present at this very moment. Through yoga postures, coscirous work with the breath and self massage techniques we are tuning into the energies of the current season. Through somatic practices you connect deeply with the physical & energetic body and learn how to regulate your nervous system, manage stress and eliminate tensions. Everyone can join this class!
DYNAMIC FLOW with Natalie is a strong, guided Vinyasa class that weaves breath-syncronised movement with challenging posture and the Quantum Yoga principles (designed to regulate the Ayurvedic Doshas). With a focus on alignment, fluid transitions and balancing asanas, this is an opportunity to focus the mind and work the body in order to up-level your physical practice.
KIDS DANCE CLUB (age 7 - 12) with Talya and Noya. ** START Sep. 28th ** 
In our dance club we work on the body's mobility, improve dance skills, develop our unique self-expression and work together with others, giving place for friendships to grow. We focus on contemporary style of dancing, whilst working with various techniques, games and choreographies. The dance club is divided into two groups: 7-9 year olds and 10-12 year olds. To enable more attention on each one and a better suiting level. Cost is 10 eur per class.
MOBILITY & CORE with Daniel. Functional stretches & exercises inspired by Yoga and FRC® - a new, comprehensive training system based on scientific principles and research. You like to release tension and pain in your shoulders, lower back and hips? Improve flexibility and build deep strength to move more freely? Then this is for you. The sequences are great to balance out the challenges your body is facing after surfing, gym workouts or long hours on the computer. Suitable for everyone! Find more details here.
KUNDALINI YOGA with Zerina. Meet the power of Kundalini Yoga and unleash unknown potential. Explore unchartered territories of abundance, health and prosperity. Kundalini Yoga is considered one of the oldest forms of yoga, mentioned in the sacred Vedic collection of texts known as the Upanishads, and practiced since 500-1000 BC. It combines postures, meditation, chanting and breathing techniques to connect you to your true self, channel powerful energy and transform your life.